Artists' Group Monthly Show: July 2020

Artist of the Month:  Margie Lee "Tabletop Variations: It's About the Paint"

NOTE: The Exhibition and Artist's Reception HAVE BEEN SUSPENDED indefinitely …

St. James member Margie Lee is our Artist of the Month for July. Although the group of selected works, titled "Tabletop Variations: It's About the Paint", will not be exhibited in the St. James Pioneer Chapel Gallery, you can see them below here on this page and on the St. James Facebook page.
Margie says, "In the past, when painting models, still lives or other subject matter, I was often amazed when I looked down at my palette and saw how beautiful the paint was — the globs, dabs, drips in color. It was just paint, but it was as brilliant as gems. The colors seemed almost edible. I began this series by putting paint on a canvas and letting it speak to me, adding layer upon layer. I used the theme of tabletops because the subject matter is so very familiar. I didn't have to dwell on the subject and could concentrate on the paint.
I would like to dedicate this exhibit to the African-American victims who have suffered police violence and to their friends and family. I began painting this work last year and since then the world has come to see that change must happen. The paintings are about the joy of color and let us be reminded that it is in the diversity of color that we find joy and beauty."
Margie's first drawing is titled: "Trouble in the World"
— Title of a song by Mahalia Jackson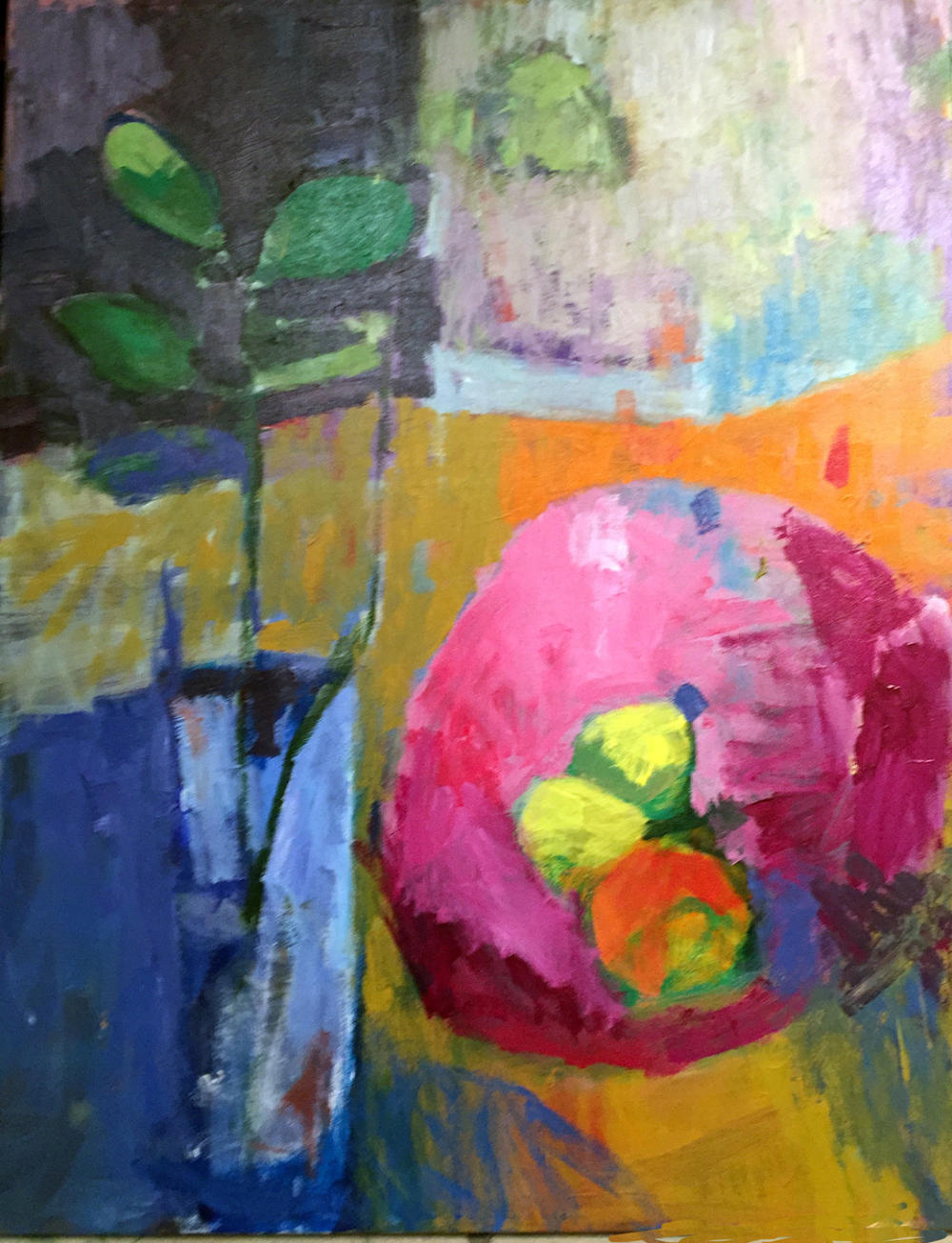 St. James Art Group
What We Brought With Us: Immigration Art Show September-October 2020
Staying home and staying safe? This is a perfect time for you to get your immigration story materials ready for our fall exhibit. This project is part of a seven church exhibition on the theme of immigration this coming fall. Our church has chosen our personal stories. When you tell your story you are connecting to deep roots and it importantly making them known to the next generations, your children, grandchildren.
While we will unfortunately be unable to hold the workshop with Geezer Gallery this summer, we encourage you to begin collecting your items and putting your stories on paper. Items may include: old photos; memorabilia; marriage or baptismal certificates; recipes; letters; diaries; census forms; military documents; tickets; pictures of furniture; costumes, etc. We can help to digitize your items. You can also begin to develop a theme for your story. Whether you do a picture or choose to write, your immigration story is probably vast and complicated. Here are some helpful hints to help direct your project:
1. Narrow it down to one theme or one story you would like to tell. It could be an event, a person, or a place.
2. Tell us how that immigration story is important to YOU today and why.
3. Tell us how your immigration story fits into today's discussions immigration.
We will make a book of our immigration stories. We can also do video interviews. Contact Paula Carlson or Margie Lee with any questions.